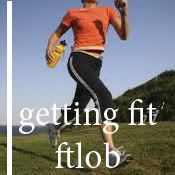 It has been a little over a week since I started tracking my food and exercise via
m
yfitnesspal
and I am 2 lbs closer to my goal.
Seeing a smaller number on the scale this morning somewhat makes up for my experience getting dressed on Easter. I pretty much live in sweats and yoga wear. The problem is, these items are quite stretchy and forgiving of a few extra pounds. Easter morning I decided to put on some 'real' clothes...unfortunately that proved to be quite the challenge. If you look at
my picture with the Easter Bunny
, you will see I ended up in a loose peasant style shirt - perfect for hiding the fact that the button on my jeans was contemplating shooting across the room.
courtesy of Google image search
My husband has been very supportive this week regarding my modified eating (I wonder if that has more to do with all my whining, complaining and tears on Sunday or the threats to buy an entirely new wardrobe).
courtesy of Google image search
I have cut sugar out of my diet...not all sugar...just candy, cakes, cookies, etc. I am still eating fruit and drinking milk, but I did stop putting creamer in my coffee. If you saw the amount of candy I normally eat...cutting that out alone should make a significant difference so I don't need to be extreme and cut
all
forms of sugar. If you are wondering...I try to avoid artificial sweeteners.
courtesy of Google image search
I was going to completely cut alcohol out, but decided I would allow myself red wine. The whipped cream vodka mixed with orange soda adds an enormous amount of calories especially when I can easily drink 2 or 3 a night, but when I drink wine I rarely have more than one glass.
courtesy of Google image search
I am also limiting how much bread and pasta I am eating, watching all my portion sizes and not turning to fast food when I am too lazy to cook.
Now that I am on track with the diet stuff, it is my exercise that is suffering this week. I did work in the yard with my husband all day Saturday. We pulled out three huge shrubs and took out a large pine tree, transplanted another tree and planted 5 new shrubs and a new tree. We also raked up all the leaves left from last fall. My husband had to run down to work for a bit and after he left I spent 2 hours digging out a tree stump by myself - that did me in and I haven't done anything since other than walk the dog.
courtesy of Google image search
My goal this week is simply to stick to my new eating plan and get a little more exercise in.
I will start by pushing a cart around Costco!
Not likely! They don't sell wine at Costco in Utah!